WHAT ARE SPINAL COMPRESSION FRACTURES?
Spinal compression fractures happen when a vertebra in the spine breaks down and collapses. These fractures can cause a loss of height, pain, and long-term deformity if left untreated.
SYMPTOMS OF SPINAL COMPRESSION FRACTURES
Spinal compression fractures can cause any combination of these symptoms:
Sharp, sudden back pain
Increased pain when standing and walking, and decreased pain when lying down
Height loss
Limited mobility of the spine
Pain symptoms that do not improve with non-surgical treatment (bed rest, back brace and/or pain medications)
RISK FACTORS FOR SPINAL COMPRESSION FRACTURES
Spinal compression fractures most often impact people with moderate to severe osteoporosis, which makes the bones weaker and easier to break. For those with osteoporosis, daily activities like showering, lifting objects, and coughing can cause damage to the spine.
People without osteoporosis can get spinal compression fractures from severe trauma, such as a sports injury or car accident, or from metastatic cancer that has spread to the spine. Those who have had one spinal compression fracture are also significantly more likely to have another.
TREATMENT FOR COMPRESSION FRACTURES: VERTEBROPLASTY OR KYPHOPLASTY
For those with osteoporosis, initial treatment often focuses on preventing future fractures by addressing the osteoporosis that caused the fracturing. Nonsurgical treatment can include bed rest, medications, and braces to give the spine a chance to heal.
If these solutions aren't enough, there are two minimally invasive, interventional procedures available: Vertebroplasty and Kyphoplasty.
HOW DOES VERTEBROPLASTY AND KYPHOPLASTY WORK?
Using fluoroscopy as image guidance, our Interventional Radiologist will locate the area of the vertebral fracture. The patient will be given a mild sedative and local anesthesia will be used to numb the area where the procedure will be performed.
The Radiologist will make a small incision in the skin and guide a hollow needle, in the case of Vertebroplasty, into the fractured vertebrae and inject orthopedic cement into the fractured area. When Kyphoplasty is performed, a balloon is first threaded through the needle and used to expand the fractured area to create space for the cement. Once the area is expanded, the balloon is removed and the cement is injected into the open space. The cement will harden in approximately 20 minutes and will keep the vertebrae from compressing again. The procedure takes just about 1 hour and no hospitalization is required.
While the idea of surgery can seem daunting, the minimally invasive nature of these procedures means less pain and a quick recovery time over traditional surgical procedures. Patients are able to return to normal activities sooner without fear of further injury or pain, leading to a better quality of life.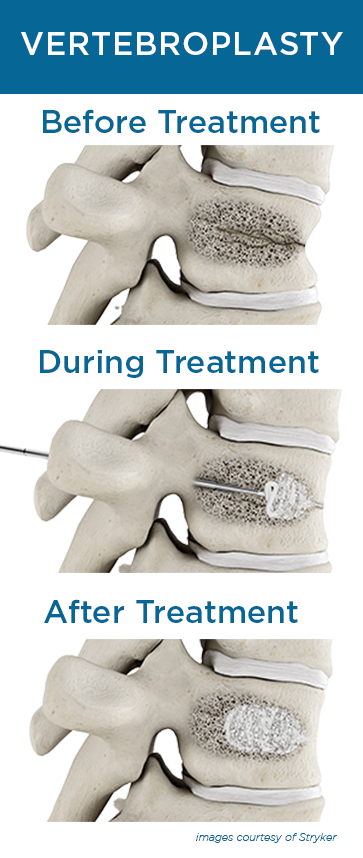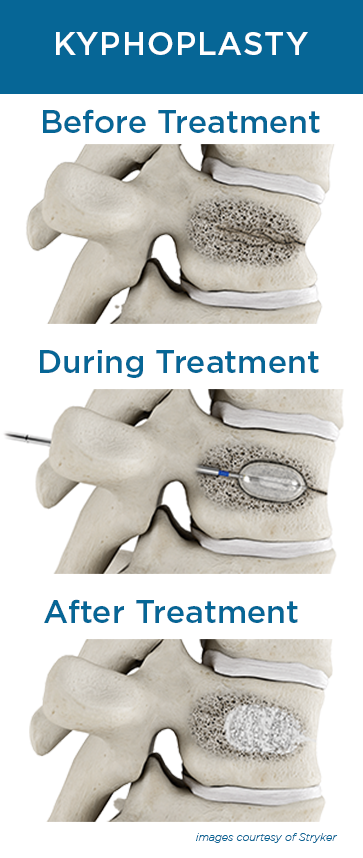 AFTER THE PROCEDURE
One of our Interventional Radiologists will interpret your results and advise you whether the procedure was a success. During a follow-up visit, your physician may discuss any additional treatment you may need or if you experience any side effects of the procedure.
AM I A CANDIDATE FOR VERTEBROPLASTY OR KYPHOPLASTY?
Vertebroplasty and Kyphoplasty are performed when the patient is elderly or frail and has suffered a fracture with impaired healing
The patient has vertebral compression due to a malignant tumor
The patient suffers from complications due to osteoporosis
If you'd like to see if vertebroplasty or kyphoplasty is the right choice for you, reach out to schedule an appointment. Our expert interventional radiologists are here to help you feel better without the trouble of major surgery.